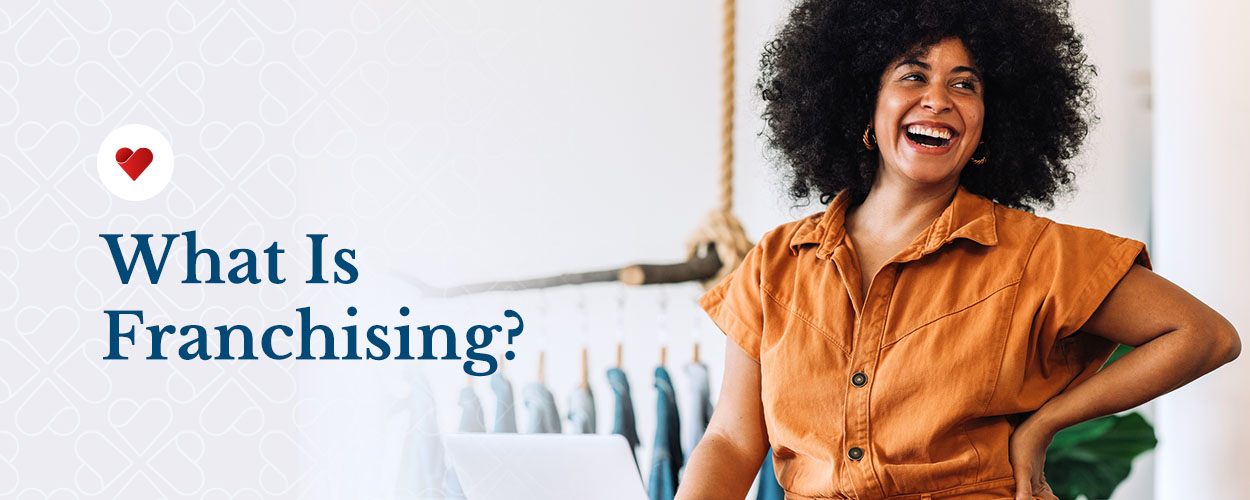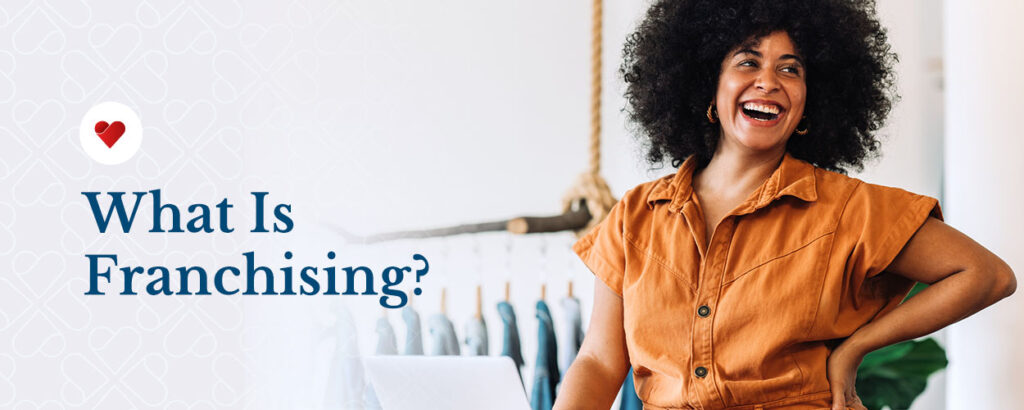 Starting your business as a franchise offers many benefits, including brand equity, access to marketing tactics, finding support and assistance, and lowering entry barriers. However, understanding franchising and the different relationships you could foster is essential for starting your business on the right foot.
Franchising is a form of distribution and marketing where an owner allows someone else to sell products or run a business using the original business system. Franchising is an American business staple, and the process continues growing in popularity across other countries as new markets emerge. Keep reading to learn more about franchising and how it can benefit your business.
Franchise Definition
Franchising is a complex topic that most people believe they understand. People often think of fast food restaurants and similar chains to define franchising, but the definition is much more specific. According to Merriam-Webster, "franchise" refers to the license or right a group or individual has to market a company's services or goods in a particular territory.
Creating a franchise is a method of distributing services or products relating to a franchisor and franchisee. The franchisor establishes a business system and trade name or brand trademark. The franchisee pays an initial fee and royalty to complete business under the brand's system and name. Technically speaking, the two parties are contractually bonded through the "franchise." This practice is commonly known as franchising.
The franchising business model has expanded into many industries. Some companies use franchising to ease manufacturing burdens by shifting storing and distribution roles to local businesses with specific rights. For example, Coca-Cola did this with those acquired bottling rights. Other industries like retail, food service, car manufacturing and oil companies have developed distribution networks to increase sales. Now, professionals in a variety of industries can start their businesses as a franchise to become financially independent and make an impact on their community.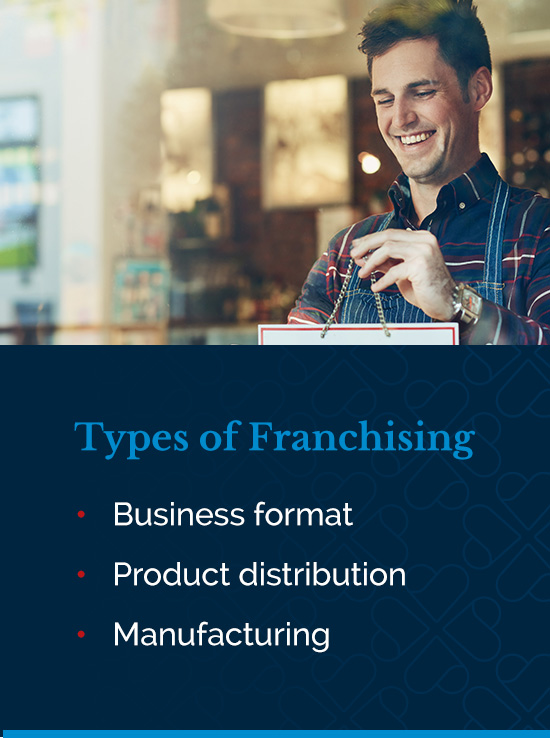 Three Types of Franchising
There are multiple franchising relationships. Regardless of the relationship between the franchisor and franchisee, there will be necessary fees and guidelines for using the brand's trademark and products. These guidelines ensure the brand upholds consistency despite expanding its relationships with other professionals and organizations. The three types of franchising relationships are:
Business format: This type is easily identifiable by many people. In this relationship, the franchisee receives an entire system for business operation along with the brand name, trade and services. Typically, the franchisor will provide the developmental support, site location, training, business advisory, operating manuals and a marketing strategy to the franchisor.
Product distribution: This relationship is less common than the previous one but can increase total sales. Product distribution involves the franchisor allowing the franchisee to sell brand products and use the brand logo and trademark. Franchisees do not receive an operating system to perform business functions.
Manufacturing: This type of franchising is common in retail industries. Through this relationship, the franchisee can manufacture products, like clothing, and sell the products with the brand trademark.
How to Franchise Successfully
Now that you understand a franchise and the three types of franchising relationships, you need to know how to be successful as a franchisee. Starting your business as a franchise has many benefits, and you'll discover that many of these assets are embedded in the franchising process. Below, you can learn how to franchise successfully and what to look for when choosing a franchisor.
Create Relationships
Franchising has a strong focus on creating relationships at its core. This involves evaluating the brand's value while franchisors support the franchisees and the franchisees meet their obligations. The franchisee must be able to deliver services and products to the brand's standards while maintaining a consistent and honest relationship with the franchisor. If you want to begin a home care business as a franchise, you must prepare to maintain consistent communication with your franchisor and understand the industry and brand standards.
Define the Brand
The existing brand is the most essential and promising asset for opening your franchise business. Like many products and services, clients looking for home care will feel more comfortable investing time and money in a company they are already familiar with. Opening your business as a franchise is an excellent way to show your commitment to your community while communicating your values and loyalties. Clients who have knowledge of a brand can extend their assumptions to your business and feel more confident about your service.
Find Systems and Support
Opening a franchise empowers you to access a full team of knowledgeable professionals with best practices. Rather than creating a unique system and forming original principles, values, training systems, operation manuals and tools, you can rely on the existing support. This support system will help you uphold customer satisfaction while allowing you to enhance the brand's reputation through the day-to-day operations of your business.
When choosing the franchising system you want to invest in, you'll need to evaluate the support you'll receive and how efficiently the franchisor can evolve best practices and services to uphold customer satisfaction. You should look for the following services from a franchisor:
Initial and ongoing advertising and marketing
A management team and personal training
Field support
Site development and site selection assistance
Development and research of new services and products
Additionally, your franchisor should effectively and routinely enforce system standards. This will be essential if other franchisees share the brand standards. This can minimize possible errors or negative acts that could hinder the brand and your business.
Form a Contractual Relationship
It's important to remember that the brand owner does not operate or manage the franchisee's location, despite the public view assuming that franchises look similar to other branded businesses. You will be responsible for serving clients and ensuring they're satisfied with your business.
Through your relationship, you'll gain brand and industry knowledge that can help your business excel, but it will be your role to ensure your business succeeds. You can shape your day-to-day management and evaluate risks and benefits according to your performance and business functions. You must also uphold brand standards while paying fees and royalties to continue your partnership.
Download the HomeWell Care Services Franchising Kit
Opening your home care business as a franchise has immense benefits. Along with a supportive team and comprehensive training system, you can show your commitment to your community and gain trust through recognizable brands. Choosing the right franchisor is essential for your business's success, and we are confident that HomeWell Care Services is an excellent choice.
HomeWell Care Services offers companionship, personal care and homemaker services to clients with disabilities and those who are homebound. We make it easy for clients to stay comfortable in whatever location or area they call home.
We have a premier franchising listing that we've earned through compassion and hard work, and we're ready to help anyone interested in franchise ownership. We're a constantly evolving brand, so we know what it means to uphold industry standards and focus on client satisfaction.
If you're interested in beginning your business as a franchise, we can help. Our support, tools and resources can help home caregivers achieve their business goals. Download our franchising kit to learn more about the opportunities, support and training we provide HomeWell Franchise Owners.