Do you have a passion for serving others? Do you seek a job that lets you make your own schedule and offers personal fulfillment? If you answered yes to either of these questions, it's time to consider starting a home care business. This article covers what you need to know before becoming a home care franchise owner.
Why Start a Home Care Franchise?
Starting a home care agency can be a lucrative, rewarding business opportunity. By the year 2034, there will be more adults over the age of 65 than children in the United States. Many of these older adults will have long-term care needs.
That said, many older adults wish to age in place gracefully and on their terms. Others might struggle with social isolation from living alone. As a HomeWell Care Services franchise, your team can provide the in-home care services older adults need to thrive at home, including:
Basic care, including assistance with activities of daily living (ADLs), care coordination, meal preparation and light housekeeping.
Companion care.
Specialty care, including memory care services for those with Alzheimer's and dementia.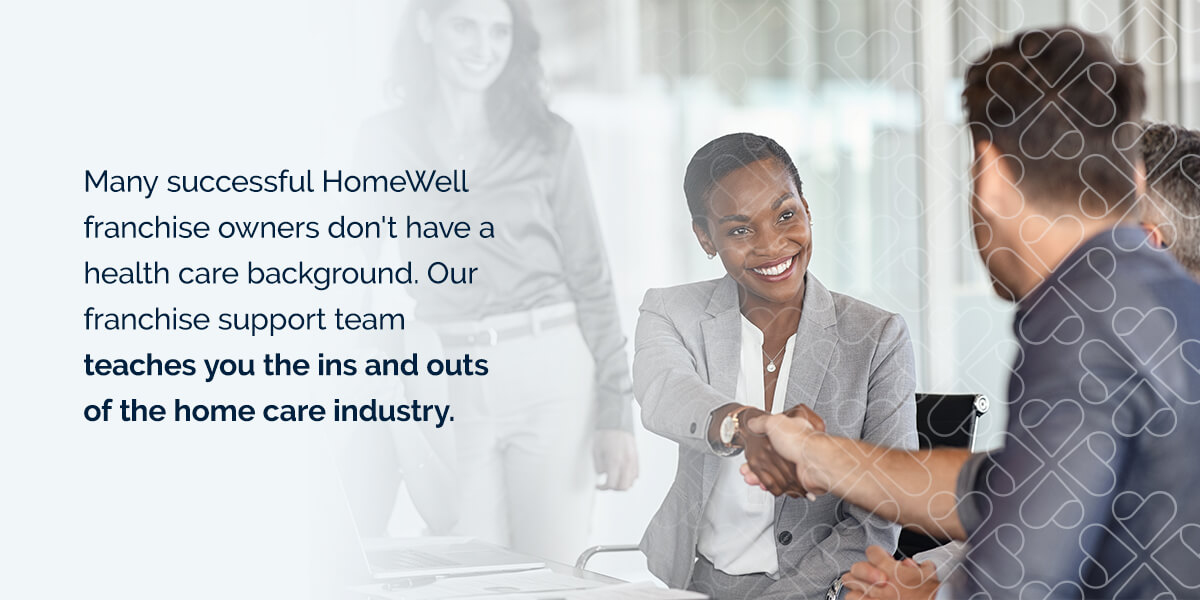 Do You Need a Health Care Background?
Many successful HomeWell franchise owners don't have a health care background. Our franchise support team teaches you the ins and outs of the home care industry. We also provide the comprehensive resources and coaching you need to be prepared to launch your business.
However, there are several personal qualities that many of our franchise owners display. They are passionate, community-oriented and willing to learn. Successful franchise owners must also have the following soft skills:
Excellent communication
Flexibility
Time management
Critical thinking
Trustworthiness
How Do You Fund a Home Care Franchise?
Like other business ventures, entrepreneurs must first secure funding to start a home care franchise. Fortunately, you can fund your franchise in several ways, including:
Commercial bank loans.
A home equity line of credit.
A 401(K) rollover for a business start-up (ROBS).
Crowdfunding.
HomeWell Care Services is also a Small Business Administration-approved, top home care franchise. This means many of our franchise candidates pre-qualify for low-doc SBA loans.
Start a Home Care Business With HomeWell Care Services
Make a lasting impact on your community's aging population with HomeWell Care Services. Our dedicated support team is here to guide you through setting up a personally rewarding home care franchise. Contact us today to learn more about how to franchise a home health care business or claim your free franchise kit.