March 15, 2022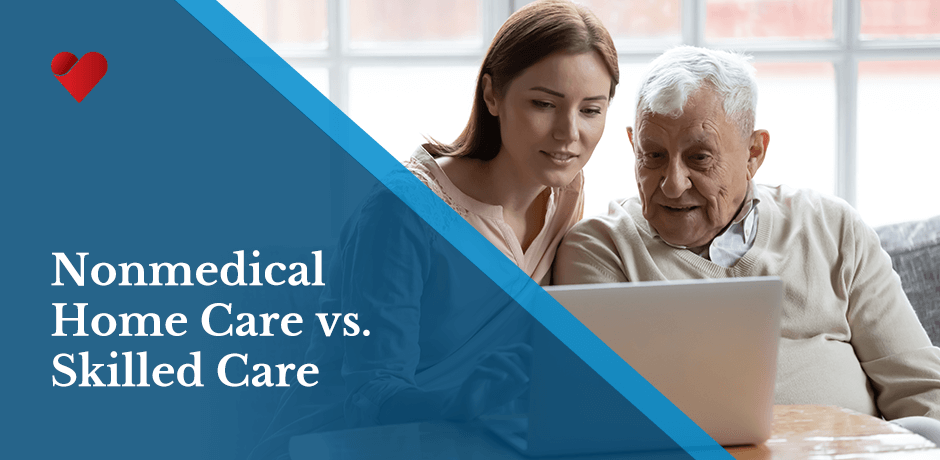 Care service franchising is a business opportunity that allows individuals to positively impact the lives of older adults, provide jobs for others, maintain a healthy work-life balance and receive financial rewards. When weighing the pros and cons of home care, nonmedical home care is often the more beneficial franchise opportunity when compared to skilled home health care. With low start-up costs and the opportunity to help older adults in need, nonmedical home care franchising is a lucrative business opportunity.
What is Franchising?
Franchise ownership allows an individual to own a systems-based business under a parent company's franchise agreement. Franchise owners sell products or provide services that the parent company establishes. Parent companies train and support new franchise owners, so they don't need previous industry experience to be successful.
Owning a care service franchise allows an individual to operate a business in a recession-proof industry. People will always need home care, regardless of what state the economy is in.
Franchising also has the following benefits:
Financial opportunities and rewards
Work-life balance and independence
Opportunities to provide jobs for others
The chance to positively impact people by providing care services
Lower risk than starting an independent business
Access to proven marketing strategies
Business training and support
Brand equity
Owning a franchise in the non-medical home care industry allows you to positively impact others in your community. You can give older adults the opportunity to live healthier, longer lives in the comfort of their own homes while also providing jobs for individuals in the area.
What Is Non-medical Home Care?
Non-medical home care, also known as custodial care or personal care, is a service that assists older adults and other individuals in need with activities of daily living (ADLs) and instrumental activities of daily living (IADLs). These activities can include light housekeeping, cooking meals, bathing, grooming, transportation, medication management and companionship. Nonmedical home care allows individuals to safely continue living semi-independently in their own homes. Individuals can receive non-medical home care as a single service or in addition to skilled home health care or skilled care.
Nonmedical home care providers supply services based on individuals' needs. Caregivers may help some people by preparing meals for them, completing household chores, helping them get around the house and taking them to doctor appointments. For others, care providers may simply provide companionship. They can help alleviate feelings of loneliness and depression by talking with a client, playing board games, completing puzzles, walking with them, taking them to visit family or assisting with shopping trips.
Benefits of Non-medical Home Care
Non-medical home care meets client needs on an ongoing basis, and clients can even receive 24/7 care if needed. Doctors don't need to prescribe this care type, so clients can decide if it's right for them and seek it whenever they feel like they need it.
Providing non-medical home care gives franchise owners the opportunity to provide the following benefits for older adults: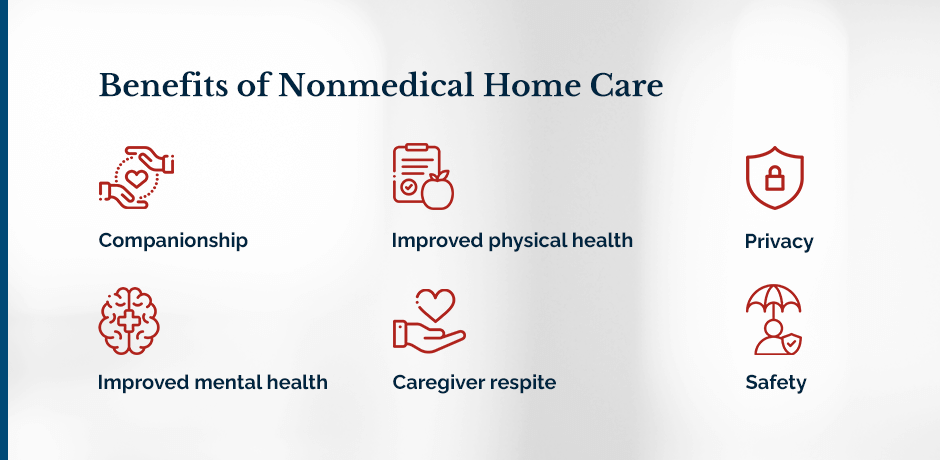 Companionship: Human connection is important for a person's overall well-being, and care providers serve as companions for older adults.
Improved mental health: Companionship improves clients' mental health by preventing feelings of loneliness and sadness.
Improved physical health: Non-medical care providers help clients exercise, maintain healthy diets and follow medication schedules.
Safety: Nonmedical home care helps keep clients safe. Care providers can help them get around the house to prevent falls, monitor their health and report when they notice any need for medical care. They can make sure clients avoid wandering into unsafe environments or leaving the stove or other appliances on.
Privacy: Nonmedical home care allows clients to receive care in the comfort of their own homes.
Caregiver respite: Nonmedical home care provides respite for friends, family members and any other unpaid caregivers so they can rest or tend to responsibilities such as work and child care.
Non-medical home care is also easier and oftentimes less expensive to provide than facility care. By providing non-medical home care, franchise owners have a wider candidate pool when it comes to hiring caregivers.
Franchise owners can also save money on salary and benefits packages because non-medical caregivers typically require less compensation than nurses who specialize in skilled home health care. Additionally, providing in-home care may eliminate the need for facility care, which saves franchise owners money on physical real estate. Opening an in-home senior care franchise requires low start-up costs and provides low, predictable overhead.
Cons of Non-medical Home Care
Medicare does not cover non-medical home care in most cases. However, there are other ways individuals can pay for non-medical home care.
Private pay methods, veterans benefits, long-term care insurance, workers compensation, some Medicare Advantage Plans, state Medicaid and some private health insurance plans can cover non-medical home care. Many individuals will find ways to receive non-medical home care even though Medicare doesn't cover it, which means that it is a recession-resistant business.
What Is Skilled Care?
Skilled care, also known as home health care, is a service that provides health care wherever a client calls home. It can cover a wide range of health care services following an illness or injury.
Home health care providers offer care that doctors prescribe, such as pain management, wound care, catheter care, occupational therapy, mobility training, IV therapy, injections and monitoring vitals. Skilled care must be administered by a healthcare professional such as a registered nurse, licensed practical nurse or licensed vocational nurse.
Benefits of Skilled Care
Skilled care provides clients with necessary medical care in the privacy and comfort in the place they call home. Medicare typically covers skilled care services since they are medically necessary, which means that there is little to no out-of-pocket cost.
Cons of Skilled Care
Because skilled home health care requires health care professionals to administer medical care, franchise owners will need to hire qualified individuals and acquire certification. Finding qualified health care candidates can be challenging, especially when a health care crisis occurs. Various events, including the COVID-19 health crisis, can cause significant health care staffing shortages. Health care workers often require higher wages and more benefits, which can make the hiring process more difficult and expensive for home health franchises.
Own a Home Care Franchise With HomeWell Care Services
When it comes to nonmedical home care vs. skilled home health care, it's simple to see that both are beneficial, necessary services. However, from a business ownership standpoint, non-medical home care is a greater franchise opportunity. Owning a non-medical home care franchise allows you to enter into the healthcare industry without having to go through as much of the regulatory issues that a skilled care business might face. Through franchising, you can operate your own business under HomeWell Care Services branding, and positively impact older adults. HomeWell offers training, launch assistance and operational support to franchise owners so that they can have confidence from the start.
Homewell franchise owners have access to brand equity and marketing strategies for successful business operation. As a Homewell Care Services Franchisee, we will teach you how to establish your business, scale your agency and achieve your goals as a business owner.
Contact Homewell Care Services or download our franchise kit to learn more about our franchising opportunities.