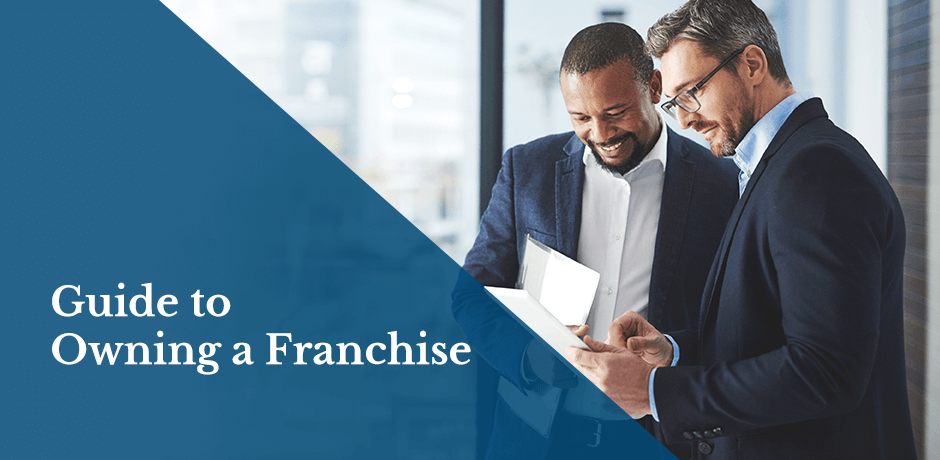 Today's economic climate has many people questioning if now is the right time to pursue their dreams of business ownership. With good prospects and many benefits, it's no wonder many entrepreneurs like you are wondering how to start a franchise.
When it comes to franchise ownership, being a part of a larger company is both rewarding and challenging. We've put together this comprehensive guide to owning a franchise to address some of the most common questions from budding entrepreneurs. Think of it as your Buying a Franchise 101 handbook to help you get started.
Click below to jump to the section you'd like to read first.
Understanding the Franchise Business Model
How does franchising actually work? If you want to make your living owning a franchise, you need to know the ins and outs of the franchise setup. Usually, the franchisee pays a startup fee and ongoing royalties to operate a business under the franchisor's brand. The corporate HQ usually offers a business model, marketing strategies and other resources.
Essentially, the franchisee gets to use a brand and a business model. As the franchisee, you must agree to operate within the franchise agreement.
The franchising model offers many advantages that independent businesses and operations just can't offer. First, there's a lower barrier to entry than starting a business from scratch. You operate from a brand that may already have a customer base from the name recognition alone. In the used car industry, for example, only 3% of businesses are franchises. In comparison, they earn 24% of the total sales in their market, which shows just how much your business could boom.
A lot of the pre-planning that goes into creating a business, like developing a product or service is already done by the franchisor. Through the franchisor's support, you can quickly become an expert in your business, which could otherwise take years of practice.
You also join a network of independent business owners, united under a single brand. Franchisors will grant exclusivity to the area or region where you operate, meaning you're not competing against other franchises in your location.
Note that every business and industry is different. Not every brand provides their locations with training and ongoing support. Investigate the specific business model and franchise program of any company you want to work with.
Cost Requirements Associated With Owning a Franchise
In many ways, starting a franchise is like investing. You invest capital and also contribute your labor and expertise. Instead of starting a new business, you're investing in a business model that has already proven itself successful.
After you have been in talks with a franchisor and both parties are serious about the relationship, you'll receive a Franchise Disclosure Document (FDD). The FDD contains the fundamental information about the opportunity and will include the full schedule of fees associated with opening your franchise.
Other Costs to Consider Before Owning A Franchise
Besides the fees you'll pay to the franchisor, you'll also need to be away of the general costs of business ownership. Here are some items to include in your budget:
Legal and accounting fees: It's always good to have an attorney available for any legal questions. Financial recordkeeping is often new territory for first-time business owners.
Build-out cost: Many franchises need a physical location. If the company is customer-facing, you may have to design a space that meets brand guidelines. Quick service restaurants (QSRs) and other retailers usually have decor and architecture requirements, and you'll front the costs associated with design and construction. If the franchise is service-based, you might purchase or lease office space.
Supplies and inventory: Supply costs vary significantly by the type of business. Restaurant franchises need food, utensils and commercial kitchen equipment. Auto repair franchises need specialized parts and tools. Service-based companies will go through office supplies.
Working capital: After all the initial investments, you'll need funds to cover ongoing business expenses until you hit a revenue stride. Every industry is different, and most franchisors can provide an estimate based on established branches. Consult your accountant on this matter, too.
Personal expenses: It may take time before you earn enough revenue to profit, and you'll need to have cash set aside for yourself in the meantime. With a franchise, the good news is that it often takes less time to start turning a profit.
Requirements for Starting a Franchise
What do franchisors look for in a franchise partner? The selection process will depend on the company. The approach to finding the right candidates might look like a hiring process. It often starts with a discovery call and a set of materials called a franchise kit to educate the candidate on the business model. Next, you'll have additional meetings with current franchise owners and corporate leadership, followed by a final decision. Franchisors often look for business skills, personality, entrepreneurial spirit and sometimes industry expertise.
Franchise Requirements From Your Parent Company
A franchisor will have requirements that are part of the winning formula you'll use to drive success. Expect some limitations on:
Site approval: Franchise brands do careful market research when they set up new branches and want to approve the locations.
Design or appearance standards: Customer-facing establishments need signage and decor that meets the brand's aesthetic. Every franchise will need to use marketing materials that follow visual guidelines. Many also have pre-approved uniforms.
Restrictions on goods and services: If you have an exclusive relationship with your franchisor, you may not be able to sell other brands' products or services. You may also need to buy supplies from approved vendors.
Operations: Franchisor operations guidelines can include your hours, marketing strategies and even accounting procedures.
Territory: Many franchisees earn the right to a protected service area. If that's the case, you won't be competing with other branch owners in your area. That also means you can't expand into your fellow franchisees' service areas.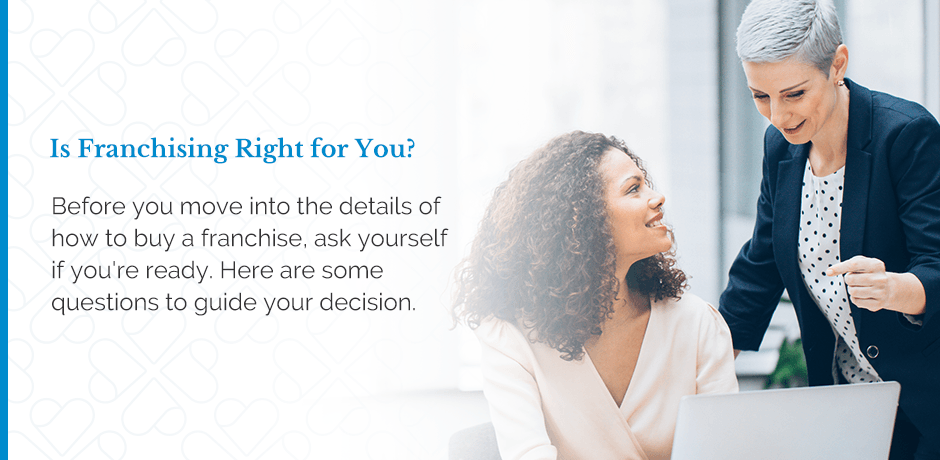 Is Franchising Right for You?
You might've realized by now — there's a certain kind of person who'll thrive as a franchise owner. Before you move into the details of how to buy a franchise, ask yourself if you're ready. Here are some questions to guide your decision.
Are You Able to Manage Your Own Business?
Owning a franchise is a full-time job, and it comes with many of the skills required of independent business owners. You'll manage your team, solve problems and deal with customers yourself. Franchise owners are usually hands-on and willing to put in the elbow grease. While your franchisor provides overarching plans, you're in charge of the day-to-day.
Are You Passionate About Your Chosen Industry?
While many people associate franchises with retailers and fast-food restaurants, nearly every industry has franchises. Personal services represent 15.8% of all franchises, while commercial and residential services make up another 8.7%. A franchise opportunity is more than a chance to make profits, and you should love what you do. While serial entrepreneurs might start itching for a new opportunity, franchisees are in it for the long haul. Are you willing to spend 10 to 15 years or even longer living and breathing your field?
Can You Follow the System?
Many people seek to be business owners for independence and the chance to be their own bosses. Although you can indeed find those in a franchise, you'll have to follow some guidance, too. The business model you're buying into is what makes franchising so successful.
Are You a People Person?
When 10 successful franchisors were asked what they want in a franchisee, five mentioned characteristics of sociable, friendly individuals. As a business owner, you need to like people and develop a human connection with your customers. You also need to have skill as a team leader. Expect to be involved in your community and feel a true enthusiasm for working with and helping people.
Do You Have the Funds?
When entering the hunt for a franchise, you should know what it costs to start one in your market. Be realistic about your budget and be prepared to prove you have the financial stability to start a business. Investment capital is a must-have.
Are You Getting Involved With the Right Company?
Considering who you're doing business with is just as crucial as having the right qualities and preparation. Every company has a unique franchise program, and you should look for the one that fits your needs and will give you the experience you are looking for. Feel free to directly ask your potential franchisors what they'll do for you. Consider how other franchisees feel about their experiences.
How to Own a Franchise Successfully
If you're ready to start this new journey, you can get your franchise business ready for launch in eight steps: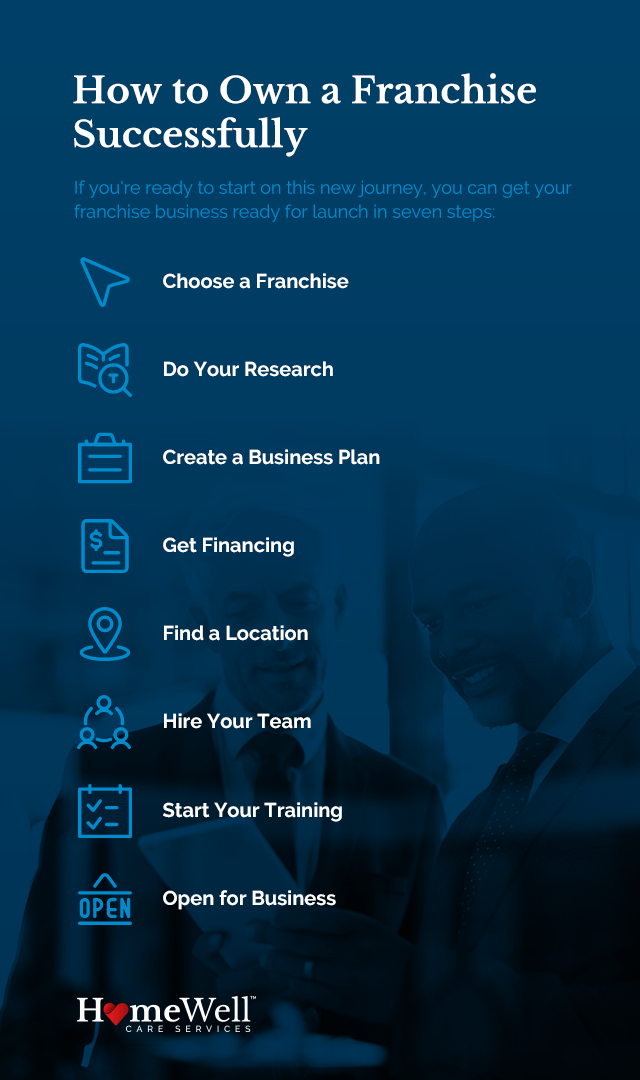 1. Choose a Franchise
The first step is to find a franchise in an industry that you're excited about and fits your unique skills. Once you have a defined list of a few options that meet your preferences and budget, reach out to them. Some have an application process. Others will provide some introductory content about the business. If you pass through initial screenings, you can ask for an FDD that includes relevant decision-making information. You'll learn about the franchisor's leadership team, market presence in your area and offered support.
From there, you can meet with the franchisor team and other franchisees. After you get to know each other and everyone agrees you're the right fit, you can receive and sign the franchise agreement.
2. Do Your Research
Franchisors carefully consider the local markets, and so should you. Your decision process should include some data and insights into your industry.
Beyond market research, you should also take a deep dive into the franchise agreement. Before signing anything, make sure you read and understand the documents.
3. Create a Business Plan
While your FDD should have a good deal of information about running your business, you need your own plan, too. It's helpful to create a plan of attack for your specific location, including hiring strategies. Your local customer base affects your earning potential, and you should account for it in your business plan. As you develop your playbook, set realistic milestones and goals to ensure you're running your business right.
4. Get Financing
There are many accessible sources for obtaining business loans, and your franchisor may have financing options available. You can pitch to private investors or seek a loan from local banks. You may also qualify for a Small Business Administration (SBA) loan. If you have the liquid assets available to finance your venture already, you can skip this step.
5. Find a Location
Unless you have a work-from-home franchise, you'll need a physical location.
Sometimes it makes sense to buy, and other times it's better to lease. If you have a customer-facing retail location, a site near your target customers and competitors is crucial. Office space offers more flexibility.
6. Hire Your Team
As a franchise owner, much of your job revolves around leading and inspiring others. These responsibilities are a lot easier when your dream team is by your side. Your employees are also the connection between you and your customers and the wheels that keep your business turning.
7. Start Your Training
Many franchises have an extensive training program to help you get up and running. Soak up all the skills and knowledge you can during this period.
8. Open for Business
Once you've done all the prep work, it's time to get the word out about your new business. You'll need to announce your new business to the public. Customer retention is critical from the get-go. You'll want to be personally involved with keeping your customers happy and gaining referrals as your business takes off.
Start Your Franchise With HomeWell Care Services
Do you want to start a business that will make a difference? A HomeWell Care Services home care business might be what you're looking for. We offer many advantages to the prospective entrepreneur, including training and support. Start your rewarding journey as a HomeWell franchisee, and assist your customers in living longer, healthier lives at home.
Find out if HomeWell is right for you by downloading our franchise kit. Feel free to reach out and get to know us better and learn more about how we'll help you build your business.