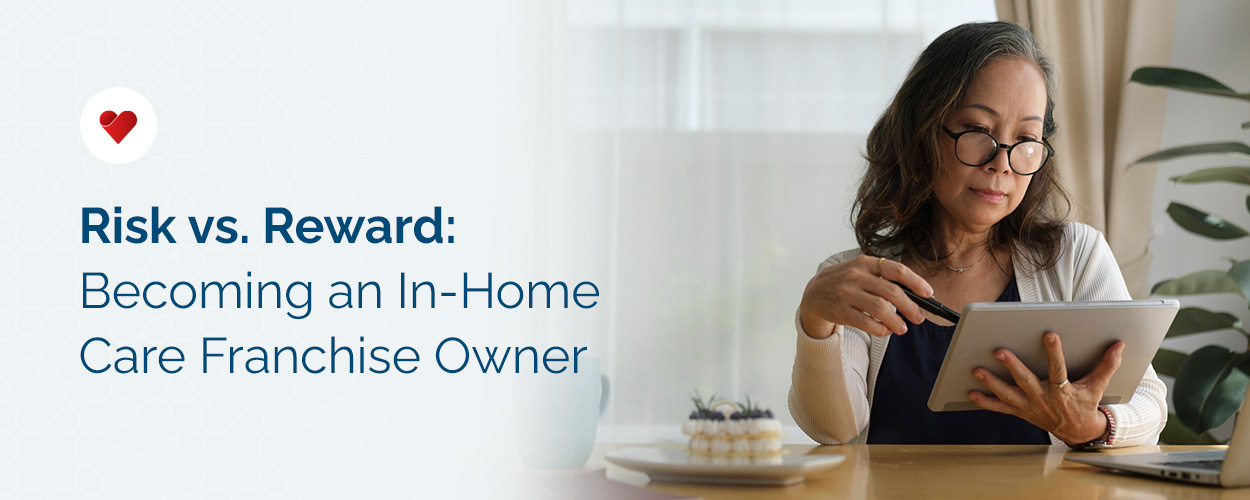 Risk vs. Reward: Becoming an In-Home Care Franchise Owner
Opening an in-home care franchise can be an extremely rewarding experience. If you are passionate about helping others and want to create a secure financial future, the home care industry presents many exciting opportunities. However, before opening a senior care home business, it's beneficial to understand the potential risks in addition to the rewards.
Understanding these challenges can empower you to be proactive and develop a plan to tackle them. Keep reading to learn about the risks and rewards of opening a home care franchise.
Risks of Starting a Senior Care Business
Although opening a home care franchise offers incredible opportunities, there are several potential risks you should be aware of. Understanding these challenges can help you anticipate barriers and devise a strategy to overcome them. Additionally, depending on your concerns, you can better find a franchise that will address the issues and provide the ongoing support you need to surpass them. Risks of starting a franchise include:
Staffing: Finding a passionate, dedicated and friendly team can be challenging. Your caregivers directly reflect your business, and you must find candidates with the proper qualifications and attitude. You must have a full team who loves the industry and completes their duties to the best of their abilities. You may need to constantly look for new talent to ensure you always have someone to cover a shift if there's an emergency, vacation, missed shift or if someone quits. Common staffing issues could include people not showing up for their shifts, calling off a shift at the last minute, lacking qualifications or quitting after a few months.
Rules and regulations: Regardless of where you open your franchise, there will be state and federal rules and regulations you must follow. These regulations will govern your company and dictate how you can care for your clients. However, these rules constantly undergo review, and it's common for them to change or for new ones to replace existing ones. You must remain up to date about these changes and ensure you adhere to every one.
Payments: Staying on top of billing can take hours, so some business owners may need a specialist to ensure payments flow properly. You must be aware when you're not receiving payments on time and balance the challenge of ensuring each senior has care while getting the money for your work.
Technology advancements: Technological advancements like monitoring systems can prompt you to feel the need to invest in the latest technology. Although there are opportunities for clients to connect with a hospital system, many people will still prefer the personal touch of your business. However, ensuring you deliver the best care possible is essential, which may mean leveraging new technology from time to time. You will need to contact your franchisor to determine what technologies you should invest in.
Obtain new clients: The senior population grows daily, but finding new clients can be challenging. You will need to devise a strategy for attracting new clients, whether you connect with local clinics or hospitals, market on social media or leverage paid advertising. Your approach must target the correct demographic and ensure you bring in the right amount of business to balance your clients with caregivers.
Rewards of Starting a Home Care Business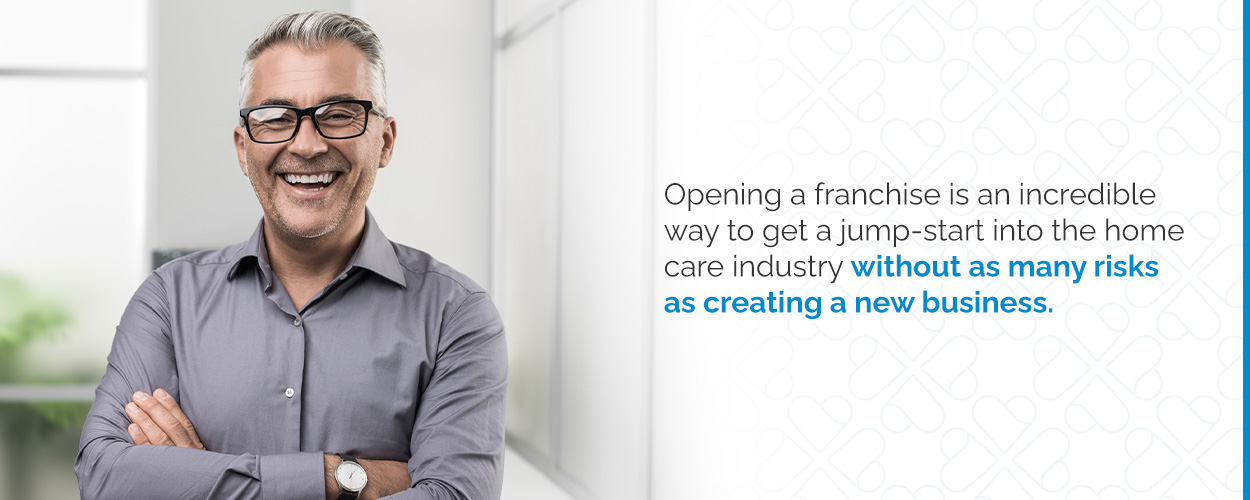 Opening a franchise is an incredible way to get a jump-start into the home care industry without as many risks as creating a new business. Consider these significant rewards of opening your franchise:
Finding a sense of purpose: Many people enjoy the home care industry because it provides a deep sense of purpose in life. Providing services for another person can empower you to feel good by doing good. Knowing that you're helping those in need and loved ones can make every day worthwhile.
Accessing a knowledgeable team: A significant benefit of opening a franchise is having a knowledgeable team ready to assist you along the way. Your franchisor will have tons of materials to provide so you can open your business with confidence.
Finding a trusted name: Franchisors offer a trusted name and an established client base with loyalty. It may be easier to find new clients by opening a franchise because potential clients already have an idea of what your services will be. The established name can give any current or new clients peace of mind.
Creating strong, lasting relationships: This industry offers long-lasting and strong relationships. As you learn what your clients need, you can become familiar with their lives, family and friends. Your client relationships can become great friendships and strengthen ties within your community.
Opening an essential business: Home care is an essential business. With people growing older every day, there will continue to be a need for care services. Many other care options, such as assisted living facilities, can be expensive. Your home care franchise can ensure seniors can access care wherever they call home.
Working with proven business models: Starting a business from scratch can have many ebbs and flows as you navigate what works and what doesn't. When you opt to open a franchise, you can access an established model to help your business grow. This information can streamline the startup process and empower you to be even more impactful.
Helping others without a health background: You don't need a background in health to succeed in the home care industry. Many tools, training and resources are available to start and manage your business from the very start of your journey.
Weighing the Pros and Cons of Opening a Franchise
Ultimately, every professional opportunity has risks and rewards. However, home care franchisees can access a team of professionals with exceptional resources and support. If you're passionate about helping others and want to make a significant impact on people's lives, opening a franchise is an incredible idea.
Becoming a franchise owner allows you to be your own boss while making a meaningful impact on your community. With the right franchisor, you can increase your chances of success and ensure you work in a field you're passionate about while delivering quality care.
Launch Your Business With HomeWell Care Services.
HomeWell Care Services provides companionship and care services to homebound clients, empowering them to stay comfortable wherever they call home. We're a constantly evolving brand, and we support our franchisees in every way possible. With us, you can access the tools, support and resources you need to help others and accomplish your business goals. Download a Franchise Kit or contact us today to see if we're the right fit for you