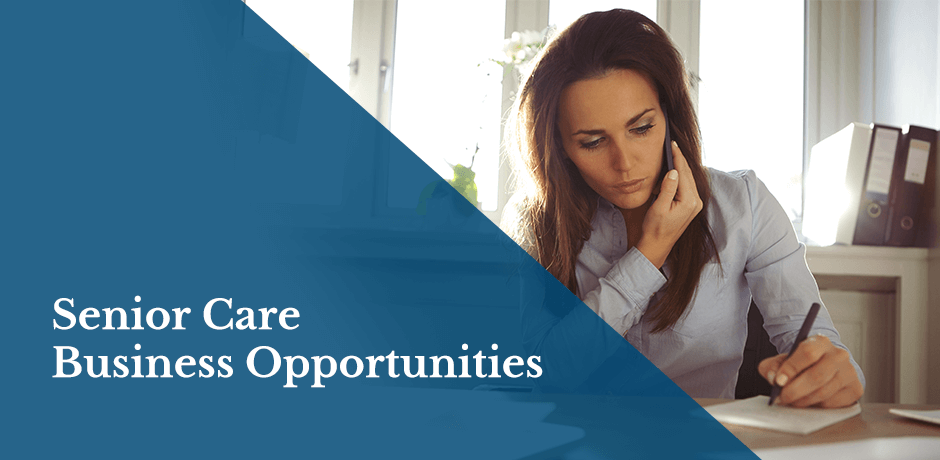 With a growing number of older adults needing specialized care and support, the senior care industry presents a promising avenue for entrepreneurs and investors. Elderly care business opportunities can include home care agencies, transportation and home maintenance — all driven by the desire to provide older adults with comfortable, fulfilling lives.
Here are a few business opportunities that can generate profits and make a meaningful difference in the lives of seniors and their families.
Benefits of In-Home Care Service Franchising
Studies show 77% of Americans 50 years and older wish to age in place in the comfort of their own home. However, many require help with activities of daily living, such as bathing, cooking and dressing. If this sounds like something you would enjoy doing, in-home services might be the elder care business for you.
And when you become a franchisor, you get additional benefits, including tapping into an established business model to benefit from proven systems, training and support. Here are just a few benefits of owning a home care business or opening your business as a franchise:
Work-Life Balance
As a home care agency owner, you have the freedom and independence to be your own boss and build a team around you. It also ensures better work-life balance, allowing more control over schedules, increased family time and an ability to prioritize your well-being.
Well-Established Support Network
One of the most significant advantages of opening your home care business as a franchise is having access to a proven system and support network. You'll have access to operational processes, marketing strategies, training programs and more. Being a franchisee also means you have access to a community of fellow franchisees, offering guidance, mentorship and collaborative opportunities for success in the industry. You'll find various elderly care franchise opportunities near you to get started.
High Demand and Stability
The demand for home care services remains steady, regardless of economic fluctuations. You'll find various nonmedical home care franchise opportunities that include protecting the health of the country's aging population. As a result, owning a home care agency means that your business will always remain relevant. There will always be a need for quality care services, and the stability of the industry provides a reliable business opportunity.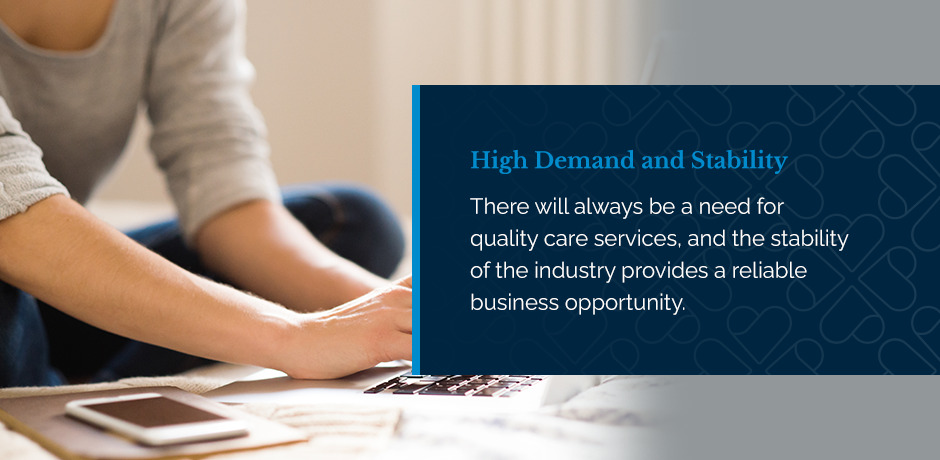 Potential for Expansion
Franchises are attractive to business owners because they allow for rapid and scalable growth. With a proven business model, you can expand your presence in new markets more quickly than if you were to open and operate individual locations yourself.
Franchisors can leverage the established business model, brand recognition and support systems to open new locations and reach a broader customer base. You'll also meet a growing need for compassionate and reliable in-home care services.
Making a Difference
Most importantly, being a senior home care franchisor allows you to positively impact the lives of older adults and their families. By providing franchisees with a framework for delivering quality care, you can help improve seniors' well-being and quality of life. You'll be able to make a meaningful difference by providing clients with compassionate and personalized support in the comfort of their own homes.
In-home care businesses can promote independence, safety and seniors' overall well-being, enhancing the quality of their lives and fostering a sense of dignity, companionship and support as they age.
Other Senior Care Business Opportunities
Here are some other senior care business opportunities you might consider:
Transportation Services
The need for reliable and specialized transportation services becomes more critical as the senior population rises. Most older adults need help getting to medical appointments, grocery shopping, visiting friends and family and other daily errands. Having your own transportation service for seniors allows you to cater to each client's unique needs and provide personalized care.
This type of senior care business allows you to make a meaningful difference in your clients' lives. By offering safe and reliable transportation, seniors can maintain their independence, access necessary appointments and engage in social activities. The positive impact on their well-being and quality of life can be immensely rewarding.
Mobile Beauty Services
Many seniors prefer in-home services, and mobile beauty services bring salon-quality treatments directly to the homes of older adults. Opening a mobile beauty business provides convenience and accessibility for seniors, making it easier to maintain their grooming and self-care routines. You might offer various treatments, such as makeup, hair styling, manicures or massages.
Mobile beauty services provide flexibility in scheduling appointments and managing your own business. You can set your hours and availability and minimize expenses by operating from a mobile unit or bringing your own supplies to clients' homes. Beauty services can also positively impact seniors' well-being and self-esteem. Providing hair styling, nail care, facials or massages can boost their confidence, improve their appearance and enhance seniors' overall quality of life.
Home Maintenance
Home maintenance services can be a lucrative business venture that ensures seniors' safety, comfort and overall well-being. Many seniors may have limited mobility or health conditions that make it challenging to perform home maintenance tasks on their own. Providing repairs, inspections and upkeep can be crucial to identify and address potential hazards, such as tripping hazards, faulty electrical systems or malfunctioning appliances.
Home maintenance services can also include installing grab bars, ramps, stairlifts and other adaptive equipment to ensure seniors can move around their homes safely and comfortably.
Contact HomeWell Care Services to Learn More
There are so many senior care business opportunities you might invest in to benefit the lives of older adults and their families. Owning a home care service business can be especially meaningful, as it allows older adults to age in place while receiving crucial care. When you're ready to start your franchise, HomeWell Care Services can help. Our top priority is to provide the tools, marketing techniques, technology and support you need to thrive in the home care industry.
We offer Openings, Operations and Launch trainings to help you get started. You'll have the opportunity to tap into brand equity while learning crucial marketing tactics to ease the process of client acquisition and caregiver retention. To get started, download our Franchise Kit or contact us to learn more.