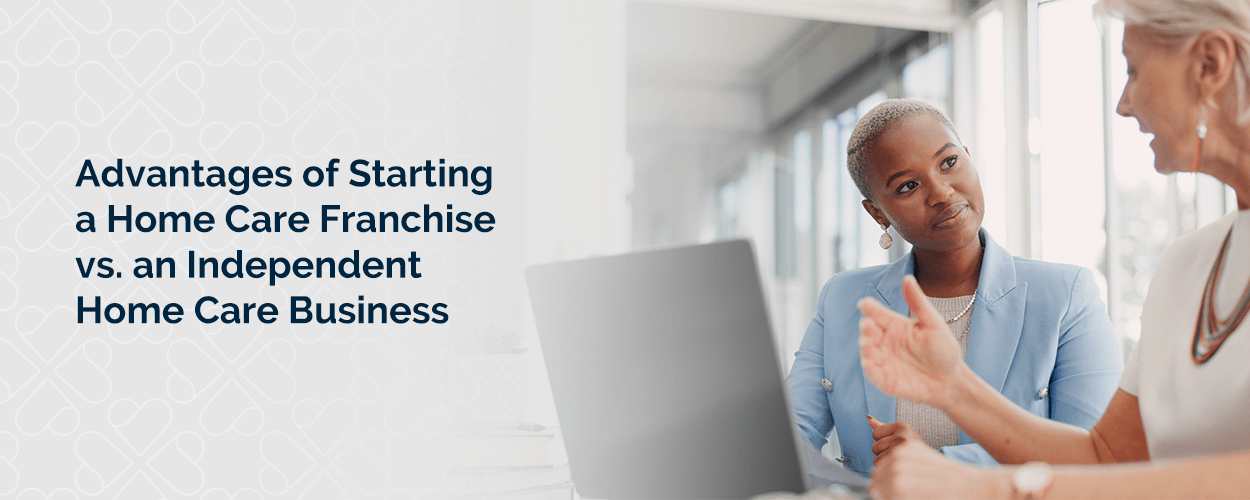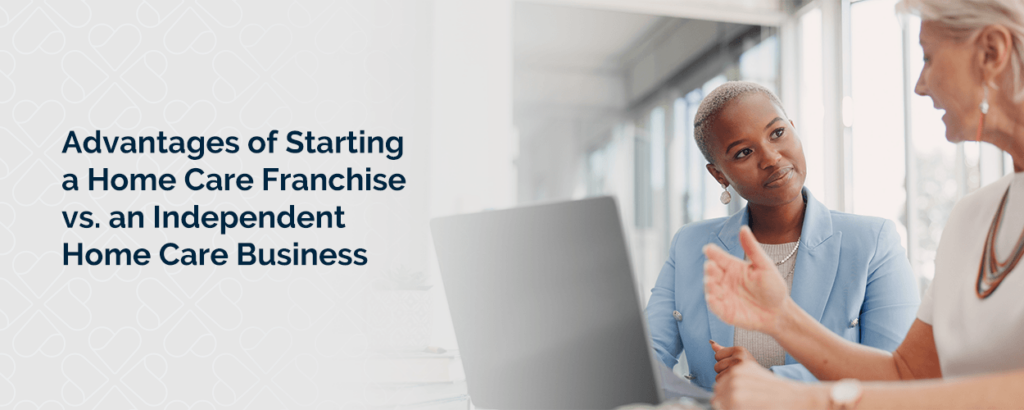 Having a home care business has its perks. Besides becoming your own boss and being financially independent, you also get to make a difference in your community by providing care to people in the comfort of wherever they call home. Being the owner of a home care business is a wonderful opportunity, but you may be wondering — what are the advantages of opening a home care franchise versus opening an independent home care business?
Below are eight advantages of the franchise business model compared to starting your own independent home care business. By understanding these advantages of opening your company as a franchise versus independent business ownership, you can make a more confident next step toward achieving your home care business goals.
1. Upfront Costs
You should always consider the upfront costs any time you make a business decision. A home care business, like any other type of business, will have upfront costs associated with it, such as:
Recruitment and staffing
Equipment and office space
Advertising and marketing
Insurance
Permits and licensing
Professional and legal fees
Other funds for opening the business
While you might be able to plan for most of the above upfront costs, you will most likely face other startup expenses you did not plan for. You'll want to save as much money as possible during your earliest days in business to prepare for those unexpected costs, and that's what you can do when opening your home care business as a franchise.
With the franchise business model, you get access to vetted suppliers so you can better plan for how much you'll be spending. When you start an independent business, you'd have to vet suppliers yourself and can end up paying more money upfront as a result.
2. Marketing Support
One of the biggest advantages of opening a home care franchise is the marketing support you'll have access to. Successful marketing is crucial for any new business. By opening your business with a franchisor, you're attaching yourself to a name that the public may already recognize and associate with a certain level of quality, reliability and consistency.
You also gain access to an existing marketing platform that uses tested marketing methods to help you better reach your target audience. With this marketing support, you're launching a successful business.
A new independent business lacks an existing marketing framework and is unable to rely on name recognition during those pivotal early days. In other words, starting an independent home care business has you on your own instead of giving you access to invaluable marketing support.
3. Networking Opportunities
Networking is difficult when you start an independent home care business. Who you know can have a great impact on your business trajectory, and if you lack a network of qualified, helpful peers and thought leaders, you could feel like you're navigating uncharted waters. You may feel this way when trying to start an independent home care business.
Starting a home care franchise gives you a much different experience. You'll be able to connect with thought leaders in the home care industry while learning from the past experiences of franchise owners to help you plan and scale your business with the greatest chance for success.
4. Dedicated Business Coaching
Having a business coach can be a huge benefit for new business owners, but finding the right one can be difficult. Instead of starting an independent home care business and hoping you eventually find the right business coach, start a home care franchise and gain access to dedicated business coaching right from the beginning.
Dedicated business coaching through your franchisor will provide the guidance you need to stay on track and reach your goals. Franchise consultants will provide you with personal support throughout your business's entire life cycle, helping you achieve more ideal outcomes.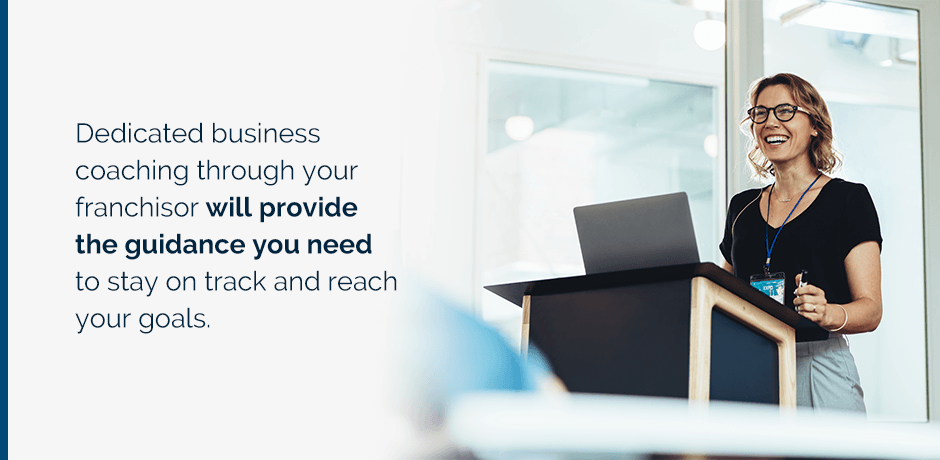 5. Access to Training and Technology
Training and technology — you need both for success in the home care industry. You'd have to find your own training and technology if starting an independent home care business, but opening a franchise gives you access to critical training and technology like:
Sales onboarding classes
An opening team
A learning management system
Franchise services focused solely on your business
Internet-based management system
With the above training and tech, you may be able to scale at a much faster rate than someone starting an independent home care business.
6. Ongoing Support
Ongoing support is another strong advantage of choosing a franchise over starting an independent home care business. Your franchisor will keep you in contact with a team of professionals who will be there for you the moment you need them. Your franchisor will present you with goals and opportunities for growth, to evolve your franchise into the best form it can be. You'll also have plenty of networking opportunities that provide ongoing support in their own way, helping you achieve new levels of success in your business.
7. Seamless Exit Strategy
The time may come when you want to transition out of business ownership. If you own an independent home care business, you may be unsure how to leave your business. Should you sell it? Will you find someone to take it over after you're gone?
When you open a home care business as a franchise, you'll enjoy peace of mind knowing there is a system in place to help you with your exit strategy. Your franchisor will help you create an exit strategy that is ideal for your specific circumstances. You and your family will be able to prepare for the next phase of life after your home care franchise.
Contact HomeWell Care Services to Learn More
HomeWell Care Services is ready to help make your home care franchising dreams a reality. When you start a HomeWell franchise, you're opening yourself up to many benefits that can set you apart from the competition and help you reach greater levels of success. Our goal is to give you the tools, technology, marketing and support you need to thrive in the home care industry.
Contact us today or request our franchise kit to learn more!