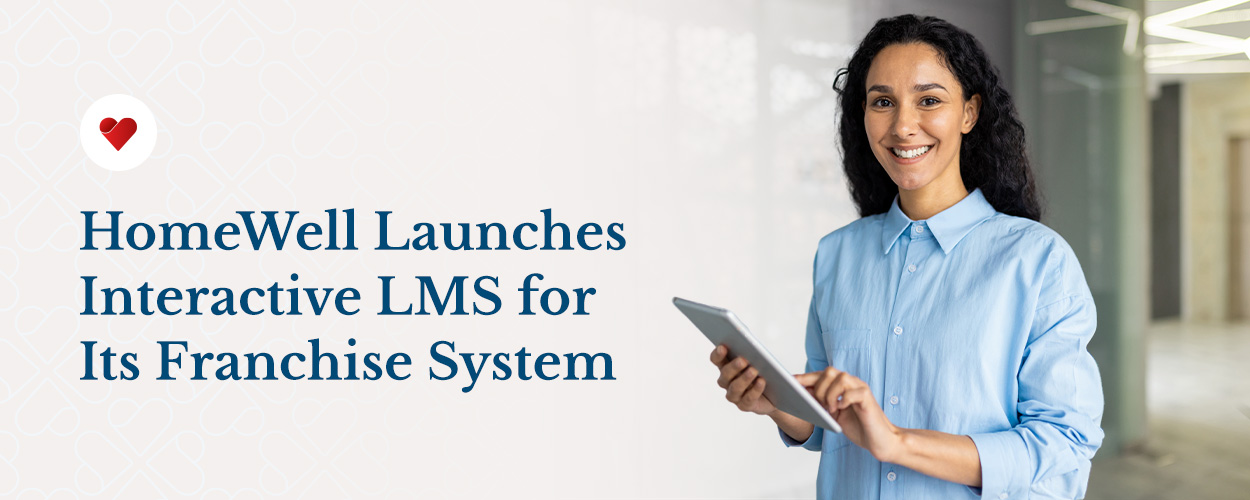 Burkburnett, TX — May 11, 2023 —HomeWell Franchising Inc., the franchisor of HomeWell Care Services, a leading non-medical in-home care provider and one of the fastest-growing home care franchises in the nation, recently made significant strides towards supporting its rapidly expanding franchise network. This April, HomeWell launched Learning Lab, a new learning management system, for use across its franchise system.
"Learning Lab equips all franchise staff and our owners—whether new to home care or industry veterans—with the practical knowledge and insights they need to provide the highest quality of non-medical home care in our industry," said Michelle Cone, senior vice president of HomeWell's training and brand programs. "At HomeWell, our exceptional growth directly results from our ongoing investment in our ownership and their staff; Learning Lab will serve as a key driver of that investment. It's an incredible step forward for our franchise and the thousands of families who depend on our care."
A New Home for Learning
With virtual workshops, networking events and numerous on-the-job tools, Learning Lab is now the central hub for all HomeWell's training, which includes onboarding and continuing professional development. "We're excited to have this new home for our learning opportunities and resources," said Erika Ehlers, HomeWell's Senior Director of Learning. "The Learning Lab is truly a one-stop shop where users across our franchise system can register for webinars, connect with each other and take advantage of our in-house training."
Ehlers, a 25-year learning and training veteran, was tasked with enhancing the franchise's training system when she began her journey at HomeWell in January 2022. Soon after, she was joined by Matt Hyre, HomeWell's Learning Design and Engagement Manager, to develop what would later become the Learning Lab.
Through Ehlers's and Hyre's due diligence, the Learning Lab effectively builds upon HomeWell's previous training resources and materials to present information and industry insights more engagingly through quizzes, interactive steps, and relevant, supportive applications. The content is also now broken down into shorter, more manageable segments lasting approximately 15 to 30 minutes each and with interactive assessments to help learners better absorb the material. They also allow learners to share feedback for various modules throughout their learning journey.
"The content is easily digestible, which leads to better retention—both in the educational sense and ultimately for employees, including support staff," said Ehlers. "Each module provides practical and meaningful opportunities for our users to interact and reflect on the material presented."
To make the experience even more engaging, learners can enjoy some friendly competition and gamification by acquiring various badges, improving their rankings on the leaderboards and more.
"It's such an organized and intuitive program," said Hyre. "Resources and ideas are focused on helping each learner feel comfortable and confident in operating their agency and to thrive in their roles."
Hyre explained that the courses are also supported with embedded files for download, such as standardized business plan templates, "cheat sheets" for pairing brand program solutions to client concerns and a wide range of industry resources.
LaunchWell & Role-Based Learning
Learning Lab's LaunchWell series replaces HomeWell's current initial operations training program, providing a more comprehensive onboarding experience for new franchise locations. There are many types of learning management systems, and with this revamp, the goal was to combine as many factors as possible to ensure a comprehensive learning program. The program will comprise several tracks, including industry insights, operations, systems, metrics, talent management, sales and marketing.
Along with an improved onboarding process, Ehlers explained that Learning Lab serves as a valuable continuing professional education resource and an effective refresh of HomeWell's processes for existing owners and seasoned employees. The auto-assignments function provides the most relevant content for each user when their learner account is created, with assigned modules and supporting materials designed to suit their respective roles within the franchise system.
"As we continue to build and evolve what is available on Learning Lab, we will broaden the content for role-specific learning paths, providing a deeper dive into topics that can help experienced owners and staff 'sharpen the saw' for their continuing development," said Ehlers. "We're really excited to have content available for office support staff as well as owners. Soon, care managers, schedulers, HR/recruiters, sales, and intake, will all benefit from learning content relevant to their roles. We also plan to launch quarterly networking sessions soon to connect associates in the same roles across our system."
In addition to producing more role-based learning content, Ehlers and Hyre expressed their excitement about future modules for soft skills like communications and customer service, along with virtual workshops and vendor webinars. "The content available at launch is just the tip of the iceberg," said Ehlers. "Throughout the remainder of the year and beyond, we'll be adding meaningful content and continually looking for ways to enhance the value and user experience of the Learning Lab."
The Best Parts of the LMS Platform
As potential franchisees learn more about HomeWell's enhancements to the learning platform, HomeWell hopes to showcase a few of the best features for first-time business owners and industry veterans. Franchisees looking to partner with a home care service provider like HomeWell will be pleased to find extensive options to assist them through:
Onboarding training: HomeWell is unique in that many franchisees start out not knowing much about the inner workings of the home care industry. Onboarding training helps rectify this situation, which is why it's such a crucial aspect of the LMS platform. The onboarding section of HomeWell's program ensures every franchisee opens their doors ready to serve the community with the valuable information they've accrued.
Launch support: Even with support from an established brand, starting a business is no easy feat. HomeWell's learning management system includes information about finding the right facility, hiring caregivers, marketing the new franchise and setting everything up so franchisees are ready to go from opening day.
Ongoing modules: While training is perhaps most intensive throughout the launch process, the months before and during opening a franchise only provide a fraction of the skills a successful business owner needs to continuously thrive in an ever-changing environment. HomeWell will regularly upload new modules to the platform for franchisees to take advantage of at their leisure.
Outreach opportunities: Similarly, HomeWell is dedicated to helping franchisees make a mark on their communities for as long as their doors are open. Certain modules will give business owners new ideas for bringing their community together and further expanding their reach in the area through developing outreach events, fundraisers, awareness campaigns and more.
About HomeWell Franchising:
HomeWell Care Services®, franchised by HomeWell Franchising Inc., provides personal care, companionship, and homemaker services for seniors and other homebound individuals, so they can remain safely in the comfort of wherever they call home. HomeWell is committed to helping people live life more fully and offers special programs for fall prevention, post-medical care, and life enrichment.
HomeWell Franchising Inc. is a premier franchisor with over 50 locations representing more than 100 territories across the United States. The company has a strong pipeline of new agencies set to open. HomeWell has been recognized as a Franchise Business Review Top 100 low-investment franchise and an Inc. 5000 company. For more information on HomeWell or to explore franchise opportunities, visit HomeWell Care Services or HomeWell Care Services Franchising.
For press inquiries, please contact:
Andrew Hurst, Communications Manager
817.203.8313, media@homewellcares.com
For franchising opportunities, please contact:
Mike Condon, Vice President of Franchise Development
817-916-8904, franchising@homewellcares.com