Tapping Into the Entrepreneurial Mindset
An entrepreneurial mindset is the mental skills someone possesses that empower them to establish a successful business. This mindset allows individuals to identify good business opportunities, overcome adversity, excel in many areas and grow from failures. Tapping into this mindset involves fierce determination and willingness to do whatever is necessary to succeed. Keep reading to learn how to tap into the entrepreneurial mindset and find inspiration from others who have tapped into this mindset and reached success by changing lives.
Sebastian and Margarita Paez's Success Story
Sebastian and Margarita Paez, driven by determination and passion, launched two businesses in hopes of solidifying their future in the United States. The couple had dipped a toe into the entrepreneurial world in the past, with Sebastian owning a wholesale business in Ecuador. However, a lack of support and guidance limited his success. Despite the challenges, the couple did not waver in their pursuits.
Instead, Margarita connected with a Career Ownership Coach, who helped the couple define their goals. The coach opened the couple's minds to valuable opportunities, empowered them to partner with an existing brand, and helped them understand the challenges and benefits of entrepreneurship to ensure they were on the right path.
The couple used this guidance to conduct market research, and they found their local community was in demand for senior care services. Interested in investing in a long-term business opportunity, Sebastian and Margarita opened a business that could change lives.
The two partnered with HomeWell Care Services to bring their vision to life. As a leading at-home care provider, HomeWell offered the personal care, homemaker and companionship services the couple wanted to deliver. At the same time as Sebastian and Margarita began this journey, they allowed their passion for education to lead them to open a STEM enrichment center.
With the help of trusted partners, the Paez couple was able to support two ventures they're passionate about. Sebastian and Margarita are currently training and working through the details for their businesses. Both openings are set for 2023.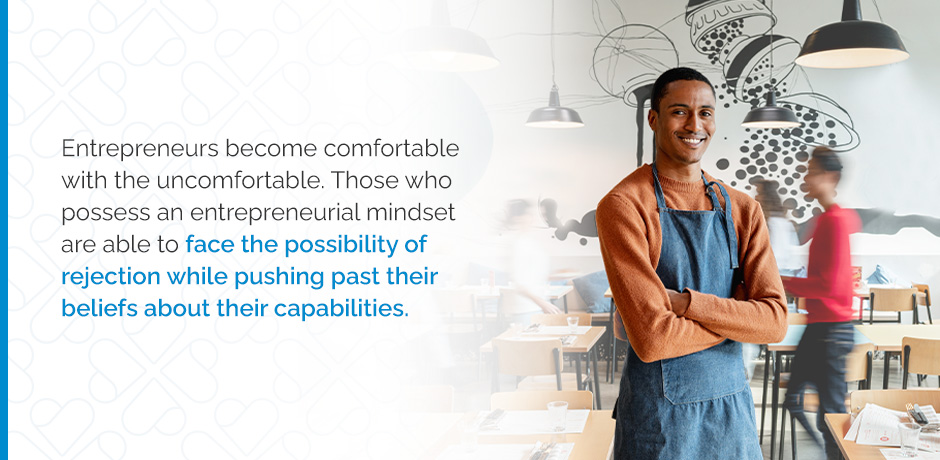 Entrepreneurs become comfortable with the uncomfortable. Those who possess an entrepreneurial mindset are able to face the possibility of rejection while pushing past their beliefs about their capabilities. There are several changes you need to make mentally to embrace this mindset. Take a look at how you can tap in by following these tips.
Embrace Fear
Fear can be an exceptional motivator for people pursuing their dreams or passions. Mastering fear can empower you to seek new opportunities and move in bold directions. These paths can hold many risks but also reveal immense rewards for those who persevere. Leveraging fear can tell you that you're moving in a new direction that others haven't navigated. You must face every fear and determine whether it's a practical concern or a signal that you're on the right path.
This process may also involve embracing individuality rather than sticking to the beaten path. Setting yourself apart from the crowd can seem overwhelming, but it can empower you to gain the traction you need to succeed.
Eliminate Negativity
Negativity can significantly impact your success journey. Whether you have doubts about yourself, capabilities or an industry, it's important to remain positive. Surrounding yourself with an exceptional support system can allow you to see problems as opportunities rather than setbacks. Seek people and relationships that can aid your growth and provide the guidance and helping hand you need along the way.
Think Creatively
Creativity is a driving quality of entrepreneurs. Many people have creative ideas, but it takes a passionate person to turn their dreams into reality. Groundbreaking inventions and ideas come from creativity. Being creative involves seeking novel ideas and turning those ideas into something tangible.
Creativity also means embracing the willingness to try new things and experiment with new plans, procedures, techniques and products. Whether combining several ideas to make one comprehensive solution or looking for a completely new way to do things, creativity will be a significant help in achieving success.
Take Risks and Risk Failure
New ideas always invite the possibility of failure, and most people will face several failures before finding success. Although failure can be a setback, it is also a learning opportunity to discover new strengths, weaknesses and what you can do differently the next time. If you make a mistake, you must move on quickly and use that result to drive your next actions.
It may also be beneficial to share your experiences to gain additional perspective from peers. Meeting with staff, colleagues or a mentor allows you to collaborate to find solutions and discover ways to handle future problems.
Set Quality Goals
When you want to be your own boss, finding ways to stay on track and seek internal motivation is essential. Setting quality goals — those that focus on near-future deadlines — can be intrinsically motivating. Depicting your goals and envisioning how you can make an impact on other people can offer a great drive.
Quality goals are manageable, clear and achievable. For example, a quality goal may include deciding to connect with a team by a specific date or completing a to-do list by the end of the month. With these goals set in place, you can monitor your progress toward the big-picture objectives.
How HomeWell Care Services Can Help
HomeWell Care Services provides unparalleled programs, tools and resources to drive business for owners. We offer industry education, innovative technology, personalized support and comprehensive training from home care professionals so that you can always access a dedicated team ready to help bring your vision to life.
At HomeWell, you can find:
Essential industry: We're one of the nation's fast-growing home care providers, and we can help you meet the growing needs of countless families within your community.
Dedicated business coaching: Our expert franchise consultants offer ongoing guidance to personally support you throughout your business ownership lifecycle.
Networking opportunities: HomeWell encourages people to connect with leaders in the industry and discover insights from experienced owners who can help capitalize on opportunities.
Marketing support: We have marketing vendors to help promote your services and distinguish your business.
If you're passionate about helping other people and want to significantly impact your community, consider working with HomeWell to jumpstart your business.
Download a Franchise Kit From HomeWell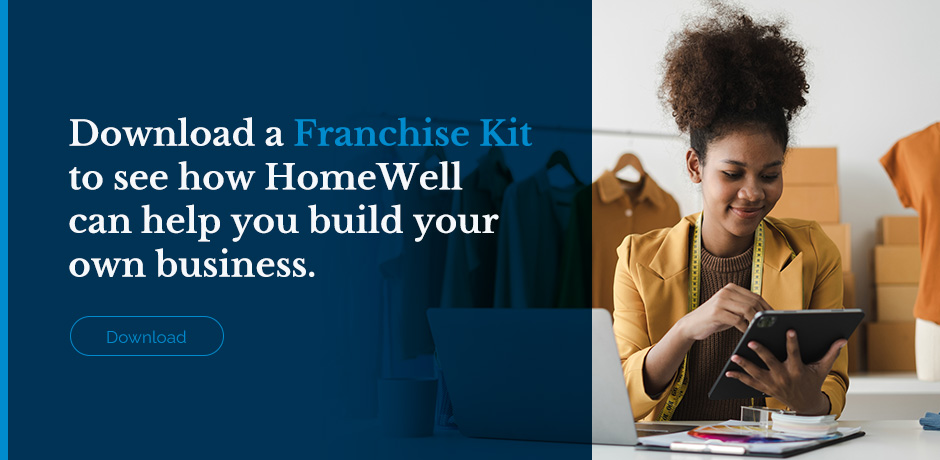 HomeWell Care Services has a dedicated team ready to help you reach your goals. With this team and our comprehensive onboarding program, you can find the support, tools and resources you need to help those in your community.
If you're passionate about changing other people's lives and want to tap into the entrepreneurial mindset, consider reaching out. Download a Franchise Kit to see how HomeWell can help you build your own business.