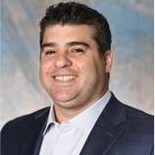 Louis Romano completed graduate school and was working for a pharmaceutical marketing company, but despite his success, he did not feel fulfilled. It was then that he began to realize he wouldn't be happy working for someone else and began looking into franchise opportunities.
Without a lot of capital, Romano needed to purchase a franchise that was reasonably priced — something not easy to find. He instinctively knew that a franchise was the direction he wanted to go because he had no desire to reinvent the wheel by starting his own business from the ground up. He wanted to hit the ground running and the right opportunity would save him six months of operational planning, research, and start-up costs. Romano wanted a formula for success.
Coincidentally, it was around the same time that he was researching franchises that Romano's grandmother became ill. As he explored options for her care, a plan began to form in his mind. The senior health care business was booming. "I realized I could help people, make money, and own my own business," he said.
Romano purchased a franchise from HomeWell Senior Care and opened his business in September 2005.
"We got clients pretty quickly," he said. "Probably within three or four months I had money coming into my pockets personally. And the profit would have come sooner if I had followed the corporation's plan for business instead of my own."
"At first, I was doing a lot on my own, not following the HomeWell formula. I was sitting and waiting for referrals to generate themselves," he said.
Soon, Romano began following the plan. He marketed and made phone calls the way HomeWell had trained him to and it worked. His business took off.
Romano appreciates the support he receives from HomeWell's corporate office. "It saves you so much time to have their brochures," he said. "It saves production time and money. They give me a lot of support, but they allow me to run the business the way I want to. I'm very independent and they sense that. If I need them, I call them up and they are there to help me, no matter what. Even early on a Sunday morning or late on Saturday night. They answer within five minutes."
With a great deal of success already, Romano said he continues to work very hard and is completely dedicated to his business. "It's what you make of it," he said. "My life has never been better."