News & press
A Rewarding Business Built Around Caring for Others
November 2, 2021
This story is featured in the November 2021 issue of Franchise Dictionary.
John and Eli Collier opened their first two HomeWell Care Services franchises in 2019 in Nashville, Tennessee. They have since added two more territories, covering approximately 70 geographic miles of the downtown area. HomeWell Care Services is one of the fastest-growing home-care franchises in the industry, offering a wide range of non-medical in-home care, personal care, companionship, and homemaker services for seniors and other homebound individuals.
Although not a requirement to become a franchisee, John brings his 25-year history in healthcare to the business. In addition to having expert knowledge, his responsibilities as CEO include driving new business through sales and marketing and human-resources compliance. He also is the primary point person for referrals, and oversees client relationships.
"We are in a place where we are really helping folks that need it. They're not calling for our kind of service if they don't have challenges getting through their regular daily routine, and my folks are able to go out there and really keep them safe, keep them happy, and let them stay at home versus having to go to a facility. So it's really nice going out and working for the families and being able to be a part of the solution for them," John said.
Eli, with her 20-year background in operations leadership, takes on a COO role. While managing the back office, she also handles recruiting, scheduling, billing, licensure, and all other operations details. She most enjoys helping clients, including veterans, and keeping the business organized. "I love putting together a list of things that need to be done, getting them done, and checking them off my list," she said.
The Colliers currently have a pool of 80 to 100 caregivers that is growing. They are always recruiting and conducting interviews and orientations in the office. "We are constantly working with caregivers and clients to get them staffed and get them matched up appropriately," Eli said. "Scheduling is a huge part of that and, to me, it's a big puzzle that I enjoy solving."
The Colliers can tell you that no two days are alike, and each day offers both variety and flexibility. With the help of a staff of four, including a sales manager, office manager, care manager, and recruiter, the Colliers have streamlined their work schedule.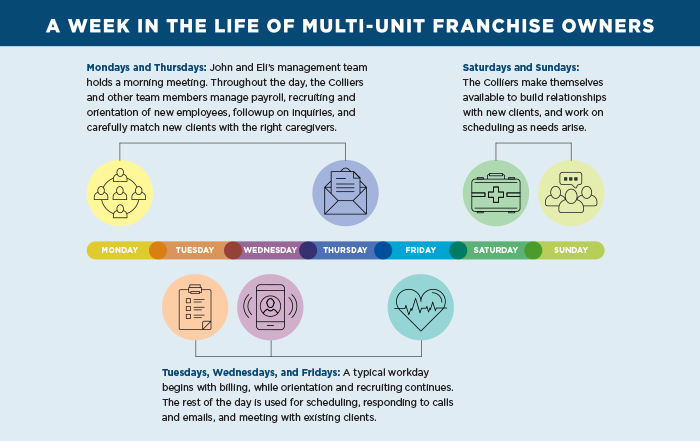 With a strong support staff and a great deal of flexibility in their schedule and work, John gets to take his son to school each morning and coach baseball some afternoons. He said: "We get to run around and take advantage of being a business owner. The hard side is, sometimes, we don't get to pick those hours, and they pick us. But the reward is certainly a lot greater than the cost." Depending on a client's availability, John or the team's sales manager may need to schedule meetings on evenings or weekends. Eli may also respond to a scheduling need after hours if a client is getting discharged from the hospital and requires help at home right away.
For the Colliers, knowing that they fulfill such an important role in their community by helping others is most rewarding. According to John: "As you get to the end of the day, you really know that you've helped somebody. I think both of us would agree, one of the best things that happens is when a family calls to say: 'Thank you for taking care of my mom, you are all miracle workers.'"
Eli added: "Since we've started, there has not been one moment we looked at each other and said, 'We shouldn't have done this.' This was the right decision from day one."
HomeWell Care Services is currently seeking entrepreneurs who are motivated for life-changing success while making a difference in the lives of others. If you are seeking a franchise that can offer a rewarding and meaningful experience, visit homewellfranchising.com for more information.
– Cindy Charette