Baltimore, MD — February 28, 2023 — During a recent corporate team building event, HomeWell Franchising Inc., the franchisor of leading non-medical home care provider HomeWell Care Services, took part in a social responsibility experience to support the art programs of Action in Maturity (AIM) in Baltimore, Maryland.
"Like AIM, HomeWell represents a group of professionals united by the motivation to do good; it's what brings us together," said Crystal Franz, CEO of HomeWell Franchising. "It was an honor for us to contribute to the profound impact AIM is making in the lives of so many seniors, and we are grateful for the opportunity to show our support."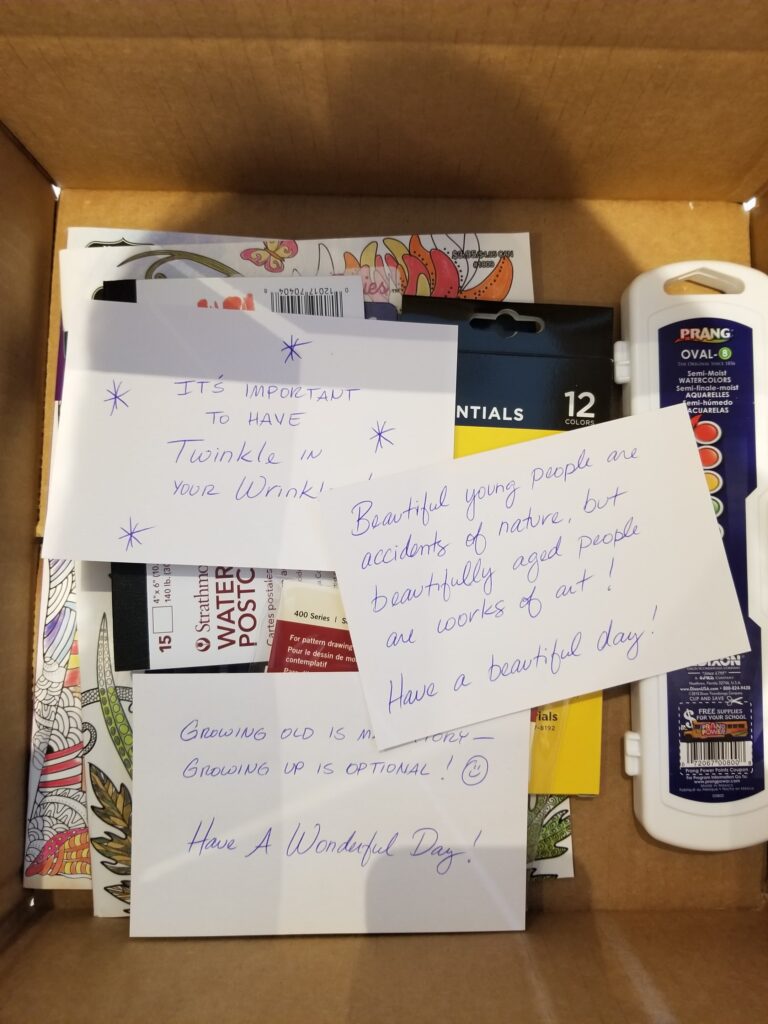 The franchise's corporate team worked with Impact 4 Good, a company that runs socially responsible teambuilding activities, to oversee their community service activity. They chose an activity entitled "Replicating Artwork – Supporting Seniors," where participants were divided into teams and competed in an art-themed communication challenge. They were then tasked with assembling 25 art supply kits. Each kit contains the materials needed to engage five seniors in several art projects and some handwritten "Messages of Encouragement" for the seniors.
Laura Bristow, Executive Director of AIM, attended the event to thank the group, accept the donation, and speak to the participants about its impact. Following the event, Bristow stated, "thank you for the gift of 25 art supply kits. Our constituents are among Baltimore City's most financially vulnerable, so the impact of the kits will definitely be a spirit-lifting one. We appreciate your generosity and originality!"
Founded in 1973 by the Greater Homewood Community, Action in Maturity's mission is to empower underserved older adults to age in place with dignity, through transportation and wraparound services. AIM's nickname is "senior center without walls" as they bring seniors to stores, entertainment and cultural happenings, and educational forums. They also offer tax and legal help. AIM transportation forges a vital link between home and community for the city's older adults.
To learn more about AIM or make a donation, please visit the Action in Maturity website.
About HomeWell Franchising:
HomeWell Care Services®, franchised by HomeWell Franchising Inc., provides personal care, companionship, and homemaker services for seniors and other homebound individuals, so they can remain safely in the comfort of wherever they call home. HomeWell is committed to helping people live life more fully and offers special programs for fall prevention, post-medical care, and life enrichment.
HomeWell Franchising Inc. is a premier franchisor with over 50 locations representing more than 100 territories across the United States. The company has a strong pipeline of new agencies set to open. HomeWell has been recognized as a Franchise Business Review Top 100 low-investment franchise and an Inc. 5000 company. For more information on HomeWell or to explore franchise opportunities, visit HomeWell Care Services or HomeWell Care Services Franchising.
For press inquiries, please contact:
Andrew Hurst, Communications Manager
817.203.8313, media@homewellcares.com
For franchising opportunities, please contact:
Mike Condon, Vice President of Franchise Development
817.203.8313, franchising@homewellcares.com